Please read about our upcoming, ongoing, and previous presentations and events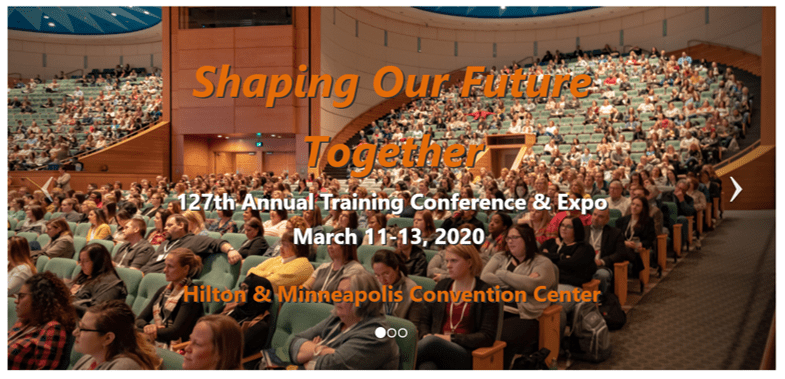 Identifying and Addressing Your Professional Burnout, Compassion Fatigue and/or Moral Injury
Thursday March 12, 2020 3:30-5:00pm
Minnesota Social Service Association 127th Annual Training Conference & Expo.
This session is designed for individuals wanting to better understand their own current experiences of burnout, compassion fatigue, and/or moral injury as well as their risks for the future. Participants will have the opportunity to complete and interpret a burnout and compassion fatigue self assessment, learn a 5-stage model of burnout, discuss the macro-level systemic forces that can lead to burnout and other injuries, and also explore prevention strategies and recovery interventions that are feasible from within their working context. We will create space for participants to share personal journeys with burnout, compassion fatigue, and moral injury. The goal of this session is to help participants become more attuned to their professional welfare needs and connect to a sense of empowerment and advocacy to help prevent—and heal from—these injuries.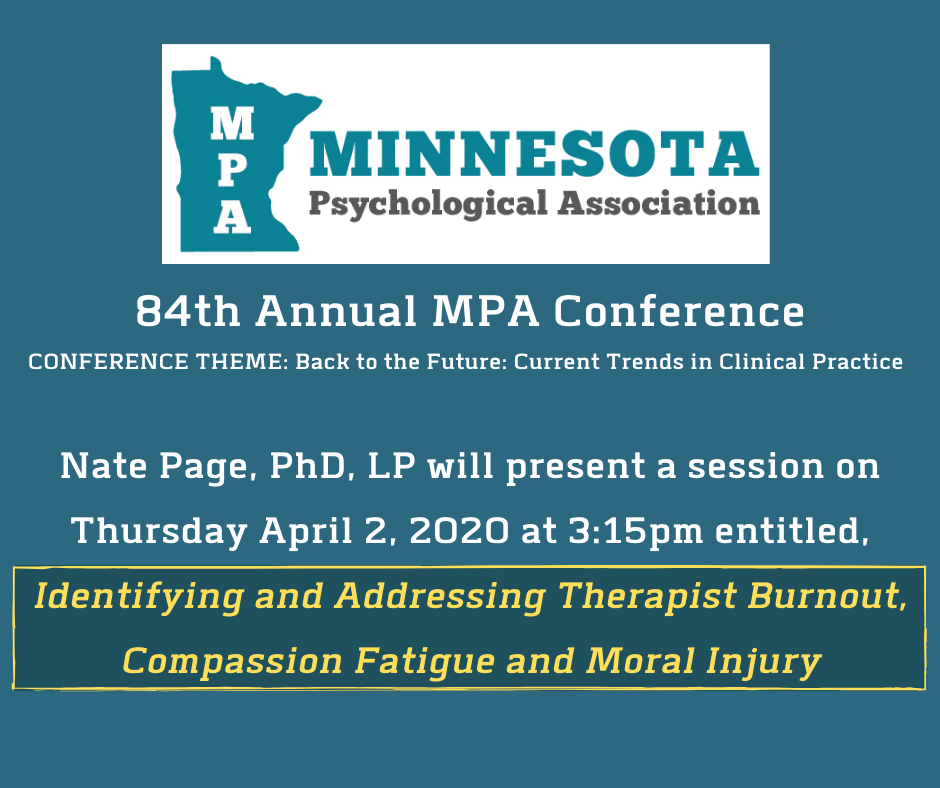 Identifying and Addressing Therapist Burnout, Compassion Fatigue and Moral Injury
April 2, 2020
This session is designed for clinicians that are wanting to better understand their own current experiences of burnout, compassion fatigue, and/or moral injury as well as their risks for the future. Participants will have the opportunity to complete and interpret burnout and compassion fatigue self assessments, learn a model of burnout, and also explore prevention strategies and recovery interventions for therapists. There will be space for participants to share personal journeys with burnout, compassion fatigue and/or moral injury.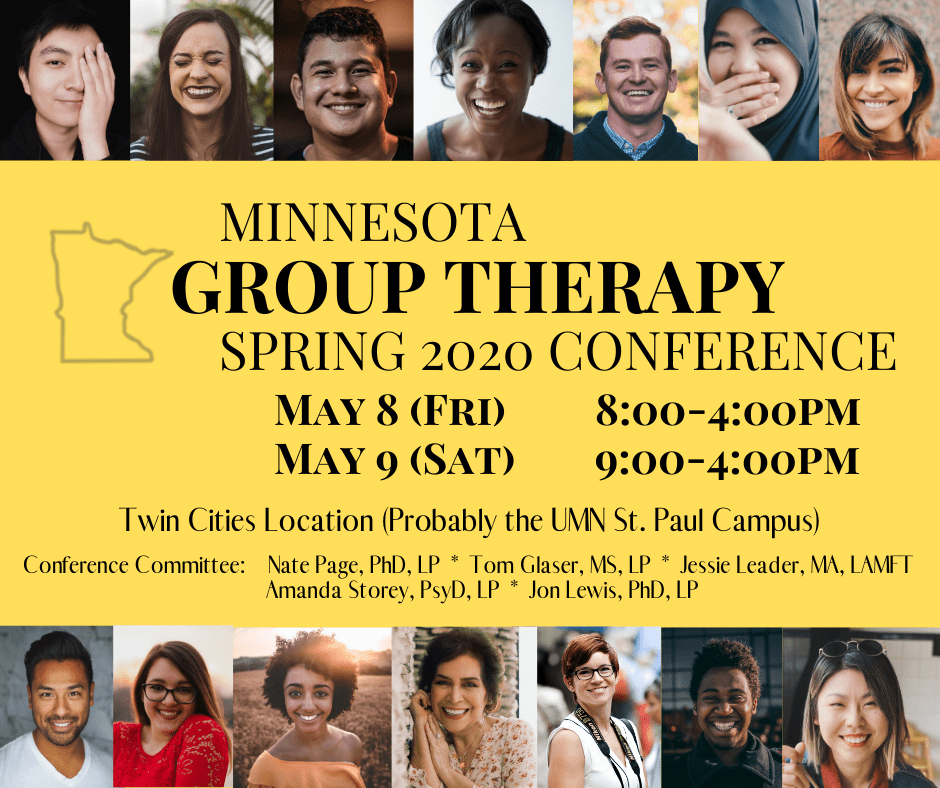 Minnesota Group Therapy Spring Conference May 8-9, 2020
We had a very successfull Fall 2019 conference and are planning an exciting 2-day MN Group Therapy Spring 2020 Conference. Please clicked here tuned for more details!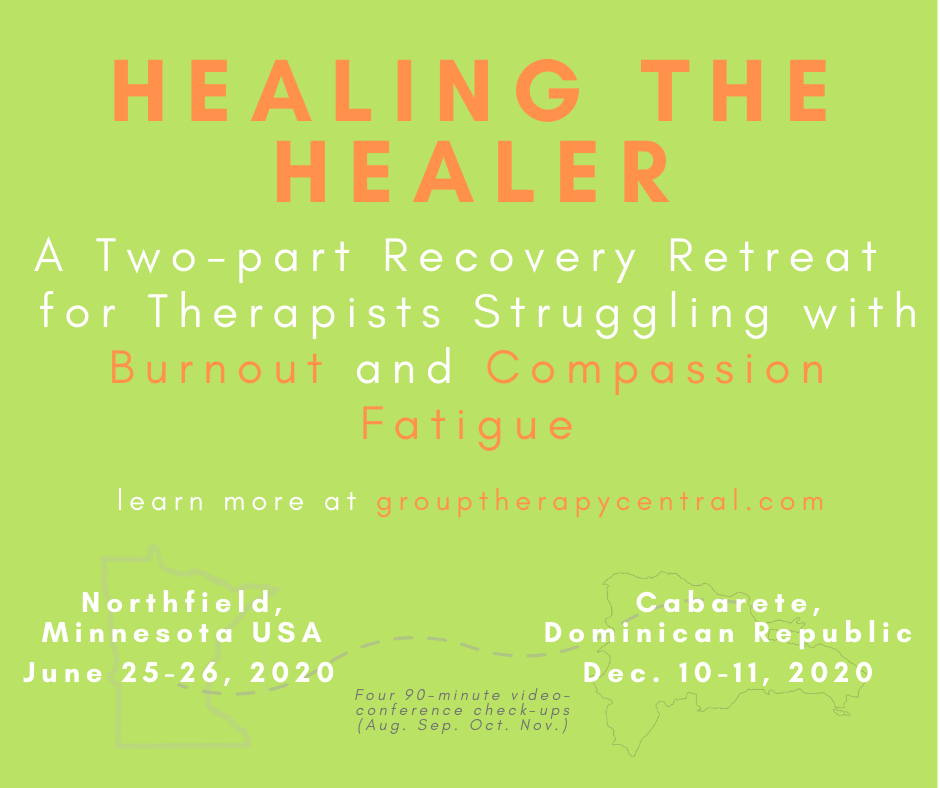 Healing the Healer
June 25-26, 2020 AND December 10-11, 2020
This two-part retreat package is designed for therapists that were once were passionate about their work and full of empathy for their clients, but now feel drained of that passionate energy and are slower to connect to those feelings of compassion and care toward their clients (and possibly toward their family, friends, and co-workers).
The retreat days will indeed be healing, transformational, energizing, and a lot of fun! There will be plenty of laughter, some healthy tears, and a strong sense of cohesion that you will develop with Nate and with your fellow retreaters that have been struggling with similar concerns. You will feel a resurgance of the passion and care that you once had, and you will re-enter your work with renewed energy and empathy.
However, it is important to note that the primary goal of this retreat program extends beyond the actual days that you will spend with us engaging in recovery and prevention work. You need your life to change in a sustainable way, which is why we invest significant time and energy on (1) assessing all aspects of your life that led to your burnout and compassion fatigue (CF), and (2) creating a meaningful and realistic plan to continue your recovery journey and prevent future risk of burnout and CF. It is for this reason that we could not, in good faith, simply hold a one-part retreat. We believe that true recovery from burnout and CF is a long process.
We also believe that healing from burnout and compassion fatigue is done best in connection to others. This is why we are limiting this retreat to a small group (7-9 people) and why most of the work during the retreat days will be in this small group.
Please visit our retreat webpage for more details about this two-part retreat program!
http://grouptherapycentral.com/healing-the-healer-a-therapist-burnout-and-compassion-fatigue-recovery-retreat/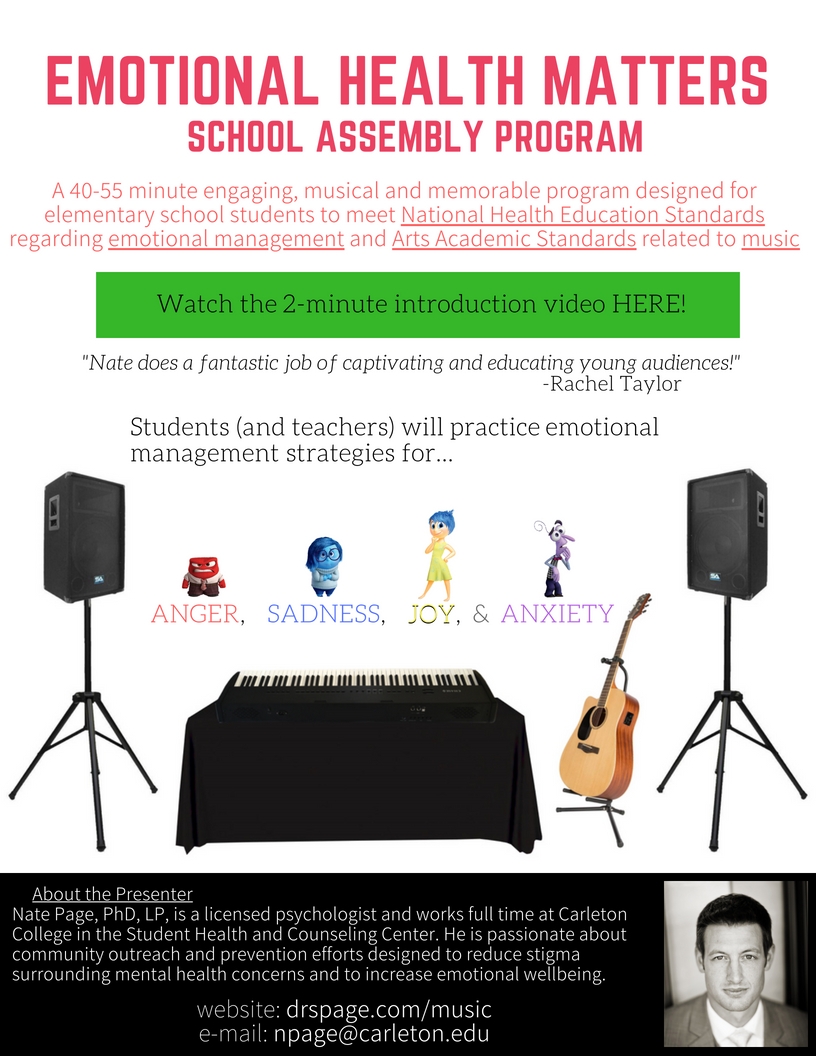 EMOTIONAL HEALTH MATTERS School Assembly Program
This school assembly program is targeted toward elementary schools (although it can be adopted for teen audiences) and designed to help young children (and teachers and parents) practice reaching out for help when dealing with difficult emotions. Please watch this video for more information. If you are interested exploring the possibility of Nate coming to your school, please contact him.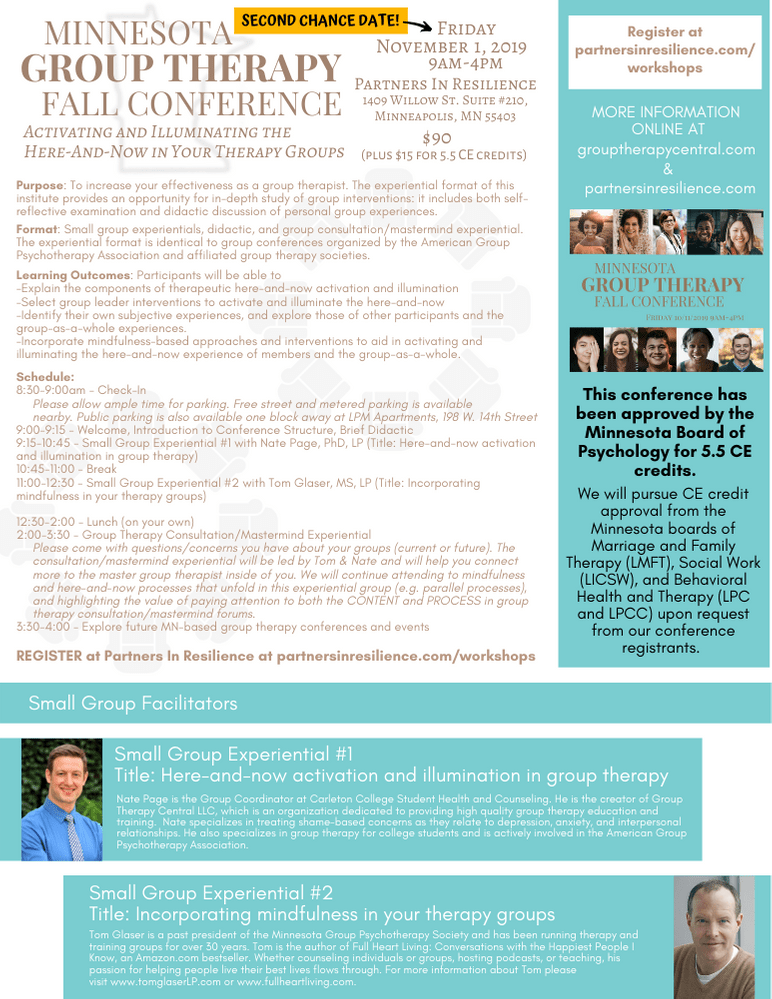 (First) Minnesota Group Therapy Fall Conference
October 11, 2019 (and a repeat day on November 1, 2019)
Tom and I were thrilled that our first conference sold out within two weeks, so we went ahead and scheduled the exact same conference a few weeks later. This was a wonderful experience and most of the feedback we received from participants was a desire to have more conferences like this. We are busy preparing for a Spring 2020 conference focused entirely on group therapy.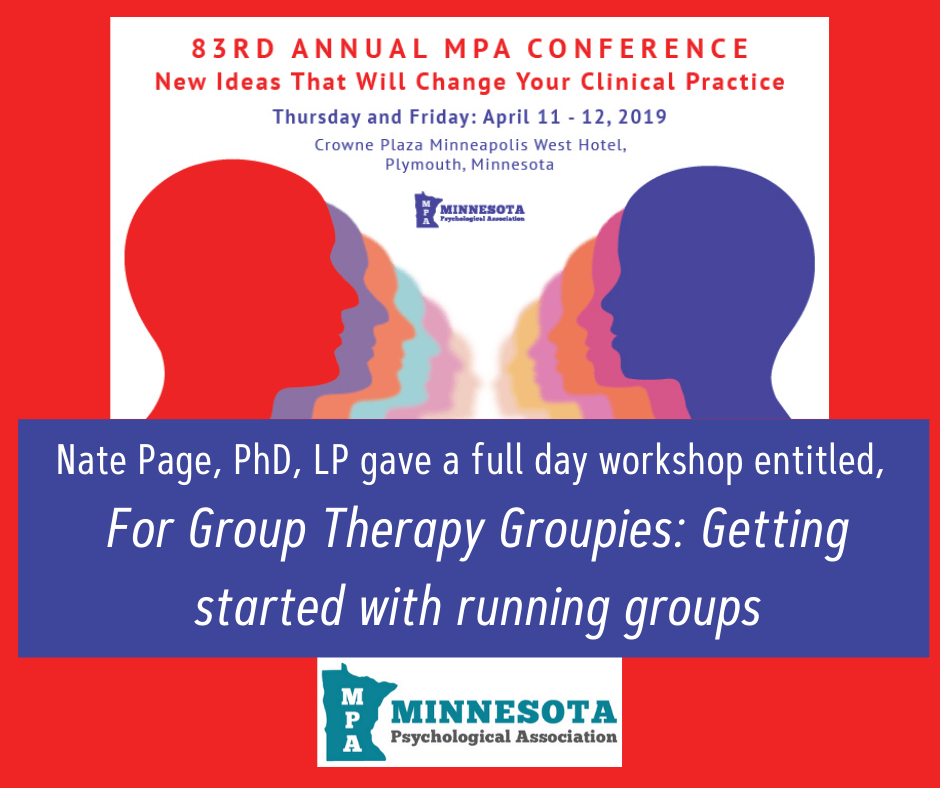 83rd Annual Minnesota Psychological Association Conference
April 11-12, 2019
This was a full day experiential workshop designed to help clinicians feel better prepared to start and run therapy groups. We addressed issues such as group member selection, group norms such as confidentiality and extra-therapy relationships, mindsets regarding money and finances, retention, different group therapy modalities, and other issues related to starting and running therapy groups.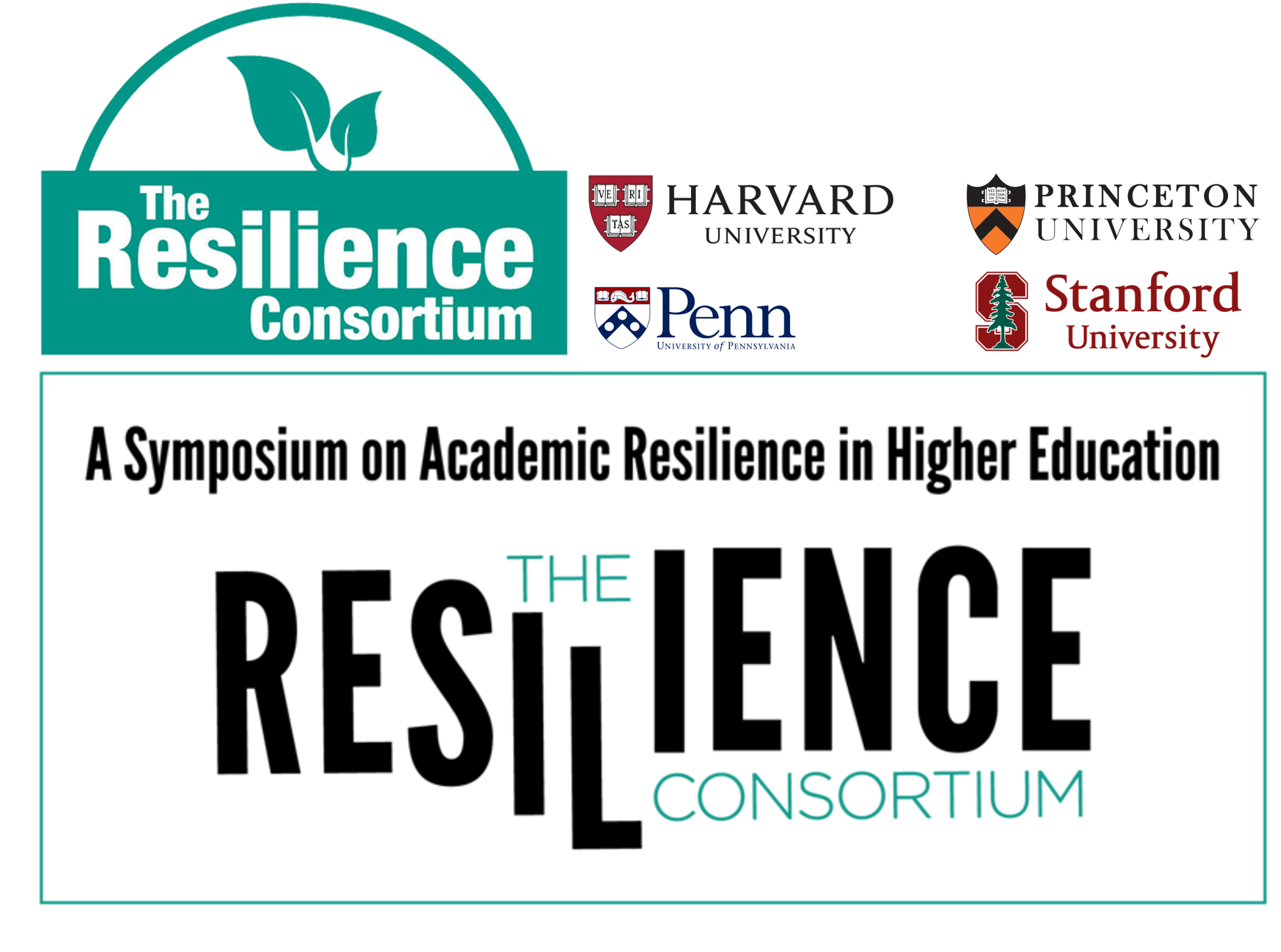 Symposium on Academic Resilience in Higher Education
November 19-20, 2018
Nate delivered two presentations at the first ever symposium of the Resilience Consortium.
Presentation One:  Developing Our Own Resilience to Perfectionism and Shame as Faculty and Staff Members.
Presentation Description:  Shame is usually at the core of perfectionism and many mental health struggles. Brene Brown's Shame Resilience Theory is based on the assumption that shame resilience is developed through connecting with our authentic selves, reaching out and telling our story, and growing meaningful relationships with people we trust. It is hypocritical (and possibly hurtful) for us as staff/faculty to try and help students challenge perfectionism, reduce stigma (surrounding failure and mental health concerns), and develop resilience while not doing that same work ourselves. The proposed presentation is modeled after an initiative from our institution with a cohort of 14 Student Life staff that participated in four 90-minute sessions focused on challenging our own perfectionism through developing shame resilience. We called ourselves the Perfectionism and Resilience Cohort.
Presentation Two:  "This Is Me" Music Video from the Carleton Phoenix Project
Presentation Description:  The Carleton Phoenix Project placed posters around campus calling for students, faculty and staff sign up to come into the college's Audio Recording Studio and sing lead vocals (and some backup vocals) for a cover version of the song 'This Is Me' from the movie The Greatest Showman. We created a music video (similar to the style of the We Are The World music videos) that cut together the voices (and faces) of the 15 courageous souls that volunteered. Our goal was to help participants (and ultimately those that view the music video) to have a corrective emotional experience of stepping out of shame and feeling a sense of bravery and belonging as they connect with the powerful message of this song while sharing their singing voices. We also completed a short video of the interviews we conducted with each person as they came into the recording studio. Participants shared the reasons why they decided to sign up for this project and also disclosed their authentic experience with following through and coming into the recording studio to sing.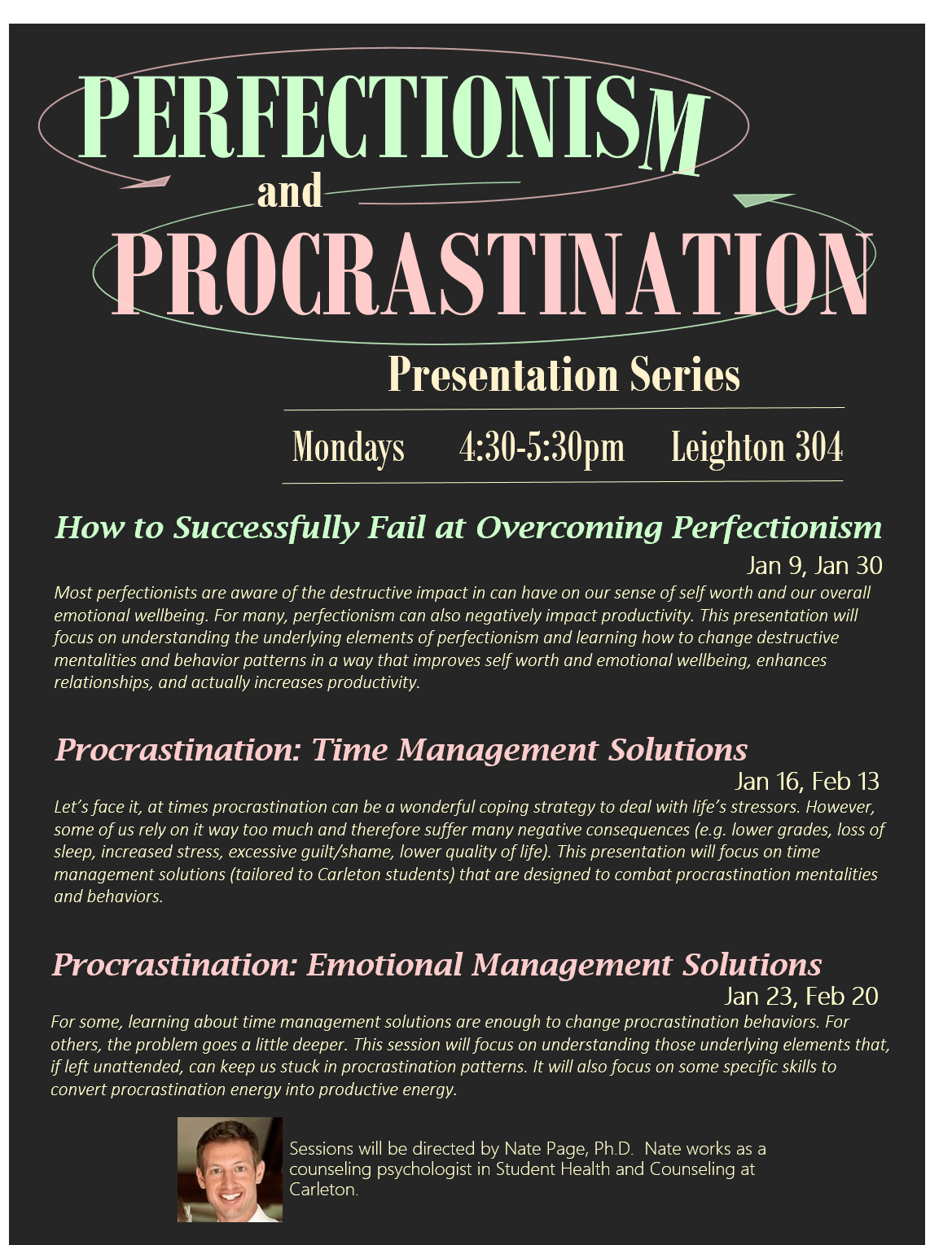 Perfectionism and Procrastination Workshop Series
January-February 2017
This three-part workshop focused on understanding the underlying elements of perfectionism and procrastination and learning how to change destructive mindsets and behaviors patterns in a way that will improve emotional well-being, self worth, relationships, creativity and productivity.