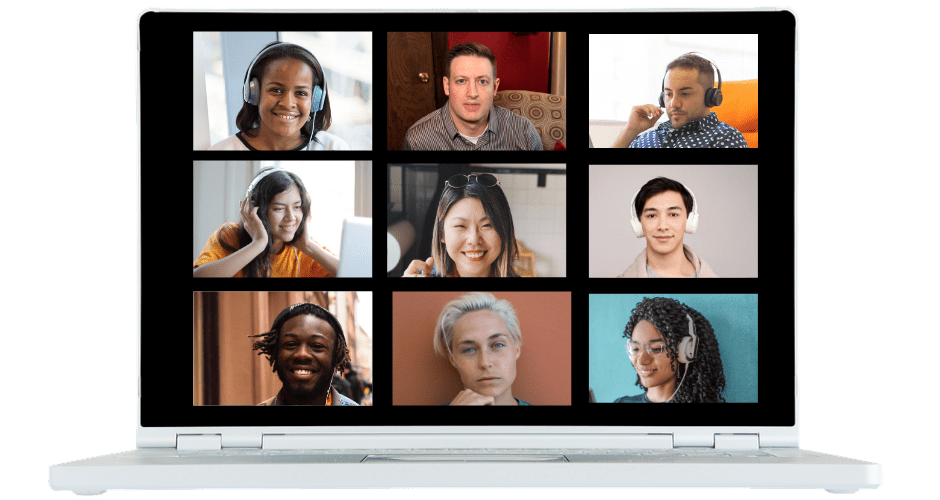 Group Therapy in Minnesota
Most people are, initially, a little hesitant about the idea of group therapy. Of course! It is a vulnerable step that requires real courage. Everyone that prepares for their first group session feels some anxiety (and also excitement) as they picture what it might be like to engage with 5-7 other group members for therapy. However, time and time again I have seen group members (and whole groups) develop strong, trusting, and cohesive relationships within the first group session. 
Group therapy powerful, and members experience significant healing and transformation--usually within the first few sessions.
The first goal of any therapy group is to establish relationships of trust. As that happens, members start to WANT to open up to the group about their concerns. This act--of authentically revealing ourselves to others--may be the "major vehicle of therapeutic help" as described by the famous group psychotherapist Irvin Yalom. 
Interpersonal therapy groups provide a space for members to practice relationships. We work to develop healthy and emotionally intimate relationships with each other, and explore barriers that are preventing us from deepening and improving our connections. Group members notice behaviors and mindsets that have limited us in the past, and practice experimenting with new ways of being in relationships. For example, a group member that has learned to erase their own wants and needs in the past (usually in order to accommodate other people) will get to practice asserting their needs, hopes, and desires in group and allow other group members to step in to meet those needs and desires. 
Group members are all required to maintain confidentiality of other groups members. Also, group members do not engage in any interactions outside of group.  
Please continue reading to learn more about group therapy, and group therapy options here at Northfield Dynamic Therapy. 
***All of our therapy groups are currently online during the COVID-19 pandemic.***
Nate is the founder of Group Therapy Central LLC, and offers online group therapy services to Minnesota residents. Many of his therapy groups are for college students. Nate also provides training groups for therapists. Nate is an internationally Certified Group Psychotherapist, which means that he has undergone rigorous group therapy training and supervision.
Please schedule a free 15-minute phone consultation with Nate to explore the possibility of joining a group. You can schedule your free 15-minute phone consultation by clicking here.
Frequently Asked Question about Group Therapy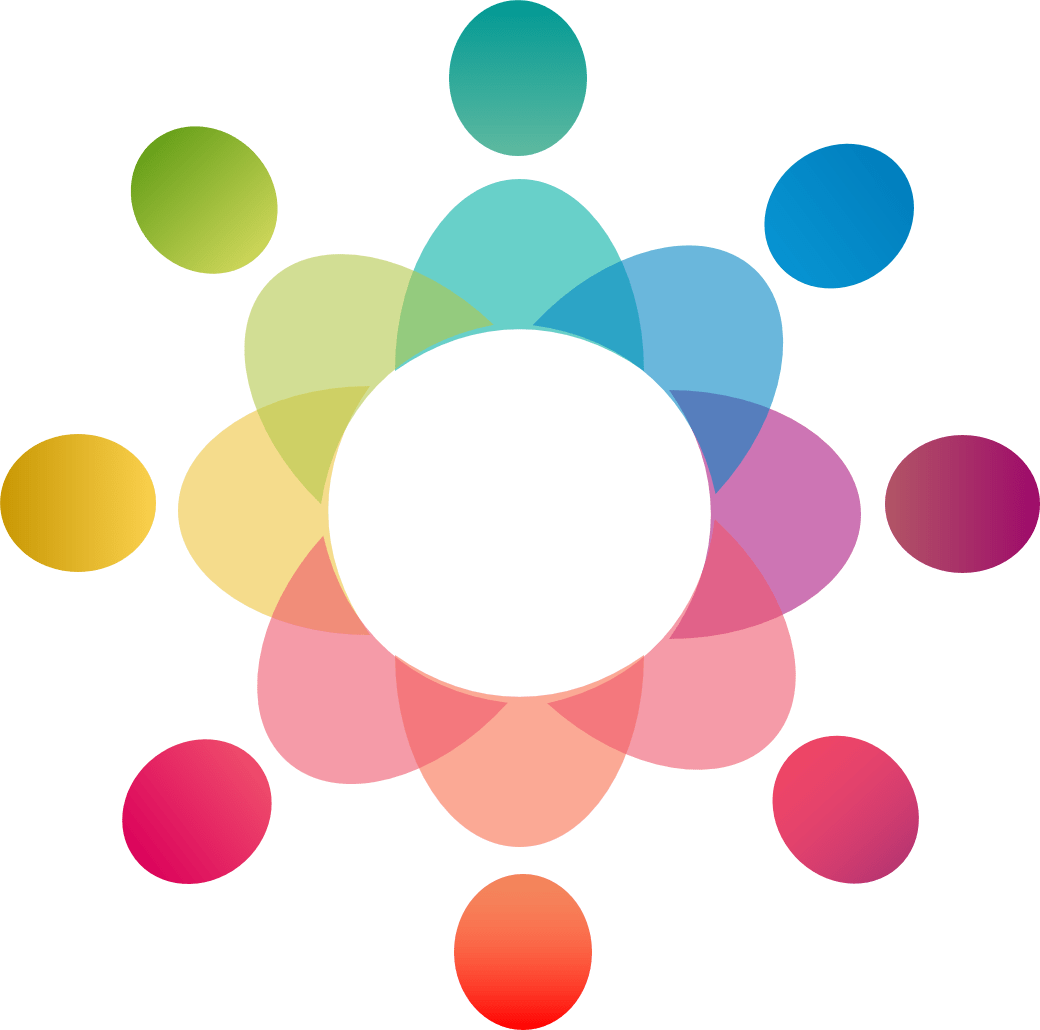 Current Groups
(1) Online Emotional Intimacy Therapy Group for College Students (Mixed Gender)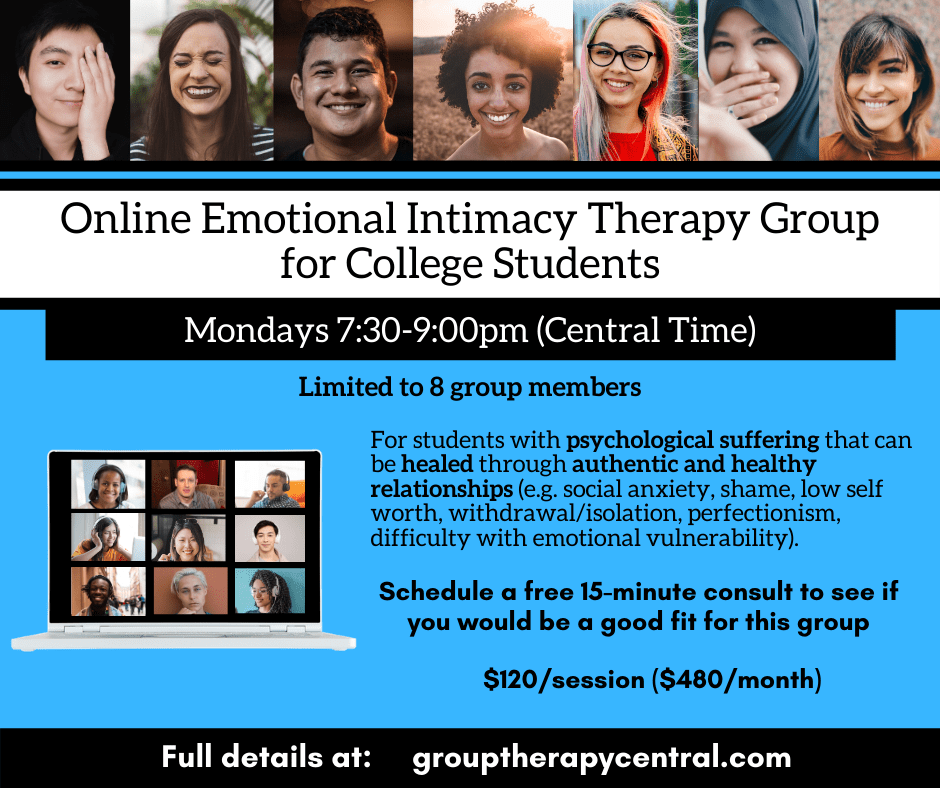 The Monday evening group is currently FULL, but we will start new groups soon. Please contact Nate to learn about upcoming group opportunities for college-age individuals in Minnesota.
Description: This group is for college-age individuals who have psychological pain (e.g. anxiety or depression) arising from a history of feeling unworthy of love and belonging. Many of us develop this type of internalized shame while growing up, and we don't recognize the toxic impact until we develop a mental health concern and/or notice how it is hurting our relationships. Many college students (and humans in general) struggle to know how to develop healthy emotional intimacy in their relationships with themselves and with others.
In this group, members learn to develop healthy emotionally intimacy. Members will heal from toxic shame through the process of authentically connecting with others and developing a more empathetic, validating, and accepting relationship with themselves and with other people. Many people use a group like this to change concerns such as depression, social anxiety, shame, low self worth, withdrawal/isolation, disordered eating, addictions, loneliness, perfectionism, and other mental health concerns.
Monday evenings 7:30-9:00pm (Central Time)
Cost - $480/month ($120.00 per 90-minute session)
Note - This is a deep discount compared to individual therapy. It is almost 1/3 of the cost of individual therapy. In other words, you can do three times as much group therapy as you can for the price of individual therapy. Group members quickly learn that each minute of group therapy is often more valuable than each minute of individual therapy.
If you are curious it this group is for you, please watch this video that I created called Are You a Good Fit for Group Therapy?
Please schedule a free 15-minute consultation with Nate if you are interested in learning more about this group and seeing if you are a good fit.
(2) Online Healing from Sexual Addictions Group (Mixed Gender)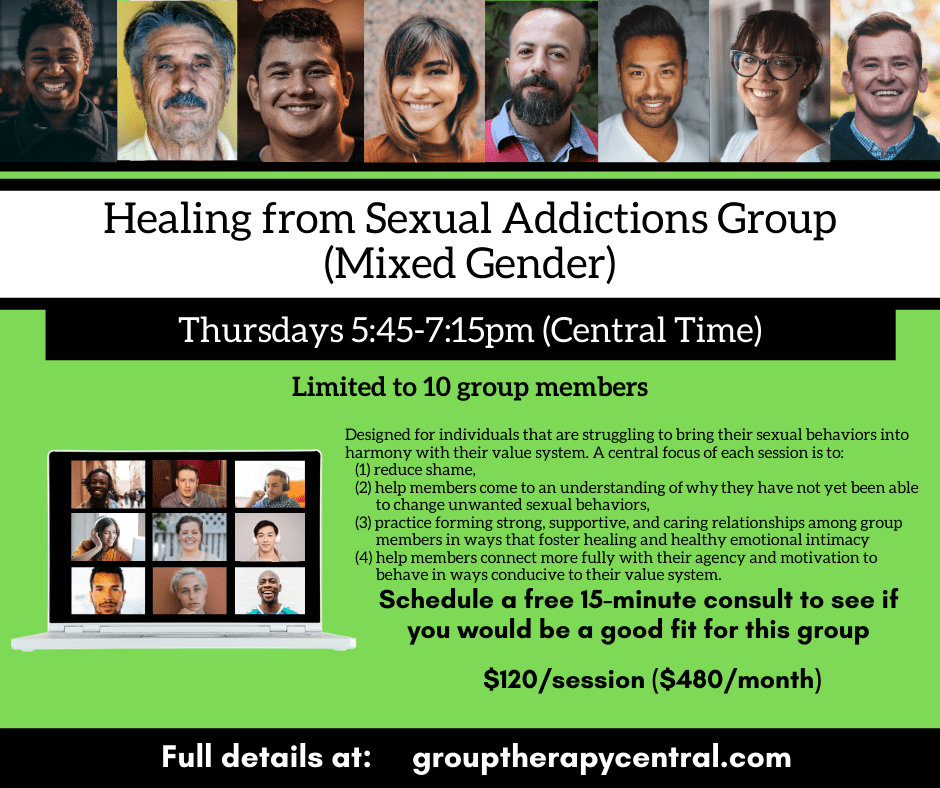 This group is for those wanting to decrease unwanted sexual behaviors (e.g. pornography use, masturbation, affairs, unsafe sexual activities).  
Often, these groups are comprised entirely of men. When there are female identified members it leads to a richer ad more meaningful experience for everyone. This group is open to all gender identities and sexual orientations.   
The group is designed for individuals that are struggling to bring their sexual behaviors into harmony with their value system. A central focus of each session is to:
(1) Reduce shame
(2) Help members come to an understanding of why they have not yet been able to change unwanted sexual behaviors
(3) Practice forming strong, supportive, and caring relationships among group members in ways that foster healing and healthy emotional intimacy
(4) Help members connect more fully with their agency and motivation to behave in ways conducive to their value system.
The format is primarily interpersonal process but does include some psycho-educational components. This means that the majority of our time will be invested in exploring the thoughts, feelings, and interpersonal dynamics occurring in the "here-and-now" of our group. We are very interested in what is happening in your life outside of group--and what life was like for you growing up--but will always consider how those "there-and-then" things are alive in the present moment.
This group is patterned after the Sexual Concerns Groups developed by psychologists at Brigham Young University Counseling and Psychological Services over the past 15 years. The treatment approach is primarily based on assumptions and interventions from Acceptance and Commitment Therapy.
The group is limited to 10 members. Ages 18 and older. Occasionally we will accept a member that is 17 years old. 
Potential group members will need to complete a 60-80 minute individual intake session with Nate to help determine if the group is a good fit.
Duration of the group: Members commit to 12 sessions. Groups may decide (as a whole) to continue meeting beyond the 12 sessions.
Cost – $480/month ($120 per 90-minute session)
You can receive a discount of $240 if you pay for all twelve sessions in advance ($1,200 total).
Please schedule a free 15-minute consultation with Nate if you are interested in learning more about these groups and upcoming group opportunities.